There are 86 separate activities that your organisation will need to complete in order to become world class at sales. Seriously. 86. That's the magic number. These activities fit within 8 categories that will elevate you through the 5 levels of sales success. Sounds complicated, doesn't it? Well, the good news is that you'll only need to establish competence in small number of these activities to raise your organisation well above the average. That's no excuse not to do all 86 by the way.
The eight categories that matter:
 These categories are determined firstly by dealing with the overall context of the firm or division as it relates to sales.
What is the Market position?
1. Is there Executive Alignment to the outcome?
2. Is there a robust approach to Sales Management?
3. Is the process of running Deal Pursuits in place?
And secondly by looking at the ability for individual departments or people to perform efficiently and effectively.
5. Do we have the right Offers for the market?
6. Are the skills and competencies in place within the Sales Organisation?
7. Do the Solutions work and are they repeatable?
8. Are other areas of Functional Expertise (finance , legal, HR, etc)
tuned to sales or just gatekeepers of success?
The five levels of sales performance:
1. Processing the order.
2. Basic sales competence built on individual skills.
3. Establish system to achieve competitive win rate. Grow at the market rate.
4. Align your resources on a go-to-market model & perform upper quartile for market.
5. World class selling. Win 80%+ of new pursuits.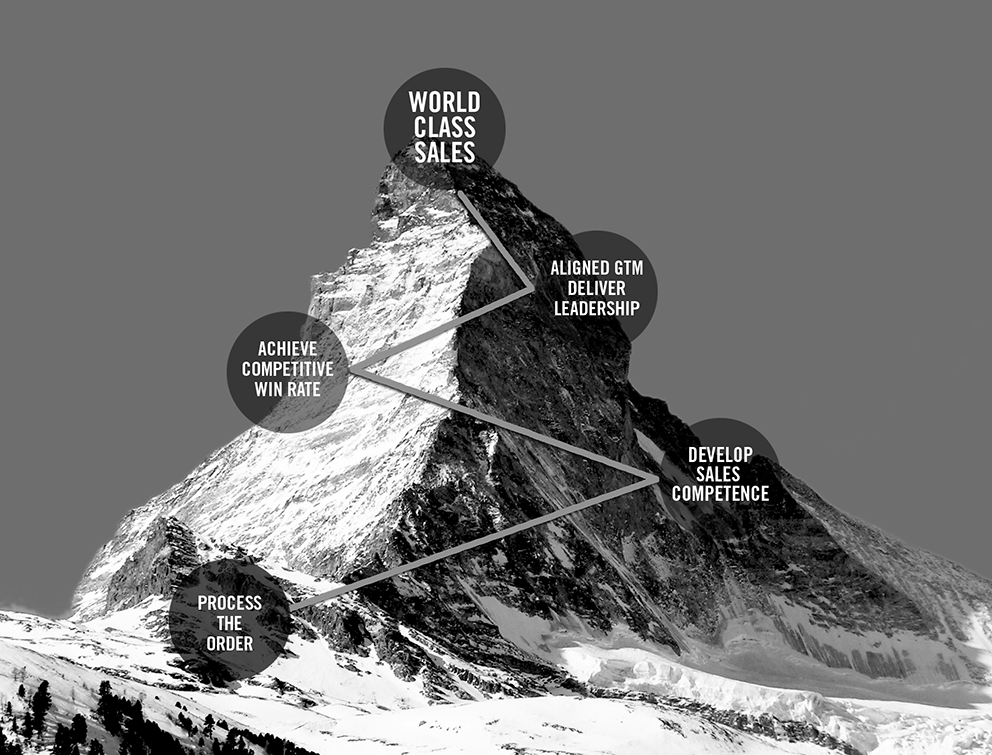 At the levels of GTM and World Class Sales the organisation will already be ahead of the competition.
Profitability can be tuned by selecting the key deals to pursue. I am often asked why I am satisfied with a win-rate in the 80-90% range. Of course, with these tools, it is possible to get to near 100%, however in my experience, at these higher levels firms start to sacrifice certain disciplines, particularly profitability and deliverability. Therefore the win rate is not sustainable over multiple years.
For the vast majority of firms, they have to sell. And sell well.
Now take a deep breath, because here comes one of the longest
(and potentially most valuable) lists you'll ever see on the internet.
The 86 steps. 
Market Positioning
Change & Pgm management plan & capability
Negotiation strategy
Company alignment to strategic position
Customer responsiveness
Executive relationship management
Alliances to win
Liability and Risk
Deal size
Market Position model vision
Land expand, whale hunt
Sales system clarity
Market intelligence
Targetting
Size of sales force
Sales Org fit for purpose
Sales capacity management
Strategic pipeline management
Exec Alignment
Willingness to qualify out
Governance Adherence
Executive sponsorship for deal
Must win meaning
Resource availability
Sales culture, focus
Company strategic alignment
Management reporting
Constancy of purpose rev tcv profit
Cost of sales ROI measure (validate economics)
Big deal team
Sales Management
Sales Performance
Coaching as a process
TPA relationships and insight
Client care – referencability
Client buying process understanding
Close planning
Sales competence
Sales forecasting accuracy
Sales time perspective – short term long term
Plan to make plan A,B
Lead generation
Cost of sale
Territory design and tracking
Win loss analysis. Feedback & learning process
Sales org experience levels and maturity
Sales planning. Big bets
Sales force performance
Sales attrition (forced and unforced)
Territory Planning
Deal Process + Management + Bids
Price to Win
Automatic proposal production
Qualification process
Deal marketing
Governance clarity
Team Selection
Resource suitability
Bid production
Bid costs . Dedicated vs leveraged teams
Sales process clarity
Sales Competence
Sales startegy development
Competitor insight (general to specific)
Competitor tactics traps etc
War gaming
General relationship management
Sales hubs, centre of excellence
Qualification skill
Solution Management
Solution quality overall
Solution design , technical excellence
Build to run
Standard architectures
Sales support competence. Industry knowledge  and Expertise
Offer Management
Value propositions
Unique differentiators, IP
Product quality
Product definition clarity
Service definition clarity
Product and service differentiation
Playbooks
Functional Expertise
Brand positioning
Contracting excellence
Risk assessment and management
Financial deal engineering
Cost modelling
Commercial competence
Due diligence
Compensation plan fit for purpose
Lead sourcing
If you've got this far, then you're already shown the kind of stamina,
resolve and commitment required to gain an advantage.
Go and get 'em.